that flybig is soon going to operate flights from Birsi Airport, Gondia to important domestic
destinations such as Indore and Hyderabad. It will have a tremendous impact on the the the economy of the Bhandara – Gondia districts and adjoining regions, promoting tourism,economic and business activity as well as in generating much-needed affordable connectivity
to not just our districts but all immediate neighbouring districts of the Vidarbha and Eastern Maharashtra region.
Important Operational Information about flybig
flybig is promoted by Gurugram – based Big Charter Private Limited, led by its visionary
Capt. Sanjay Mandavia CMD, flybig. The airline is focused on connecting tier-2 and tier 3 cities within India.
flybig sees itself as an important industry partner to the Government of India. The scheduled commuter airline has planned to induct five aircraft by the end of March 2022, offering more than 75,000 seats at peak capacity across 15 approved routes.
About Capt. Sanjay Mandavia, CMD- flybig
Capt. Sanjay Mandavia is a savvy business leader and aviation expert with over two decades of experience as a pilot and entrepreneur, which demonstrates his commitment and vision for the Indian Aviation Industry.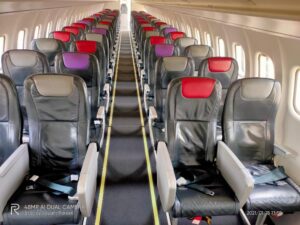 The launch of flybig by Capt. Sanjay Mandavia in January 2021, amid Covid-19, is certain to lay the infrastructural foundation for air connectivity and accessibility to the general public
living in India's hinterland, and is consistent with the Government of India's stated goal of the UDAN scheme.